More on the Treasure of Senka
Link: "This site showed a pagoda which was one of the structure of Li-Hua Temple (where Nichiji established/stayed), and it was built in Yuan dynasty (around 1300) and was remodeled in Qing dynasty. The pagoda was the only facility left from the temple site of Nichiji's. The article also said Nichiji was buried by the pagoda. Between 1984 and 1995 there were 130 groups about 2,400 Nichiren Shu members visited Li Hua Temple." — Posted by Julie at December 21, 2007 09:23 PM
I came across a couple sources of information, in Japanese of course. I now have a picture of Nichiji's mandala from Senka. Also, Nichiji's portrait of Nichiren.

Link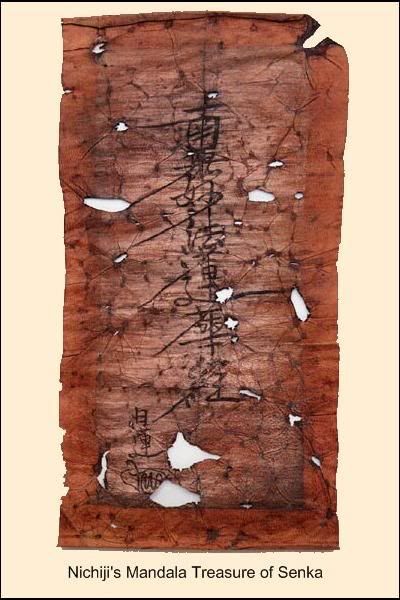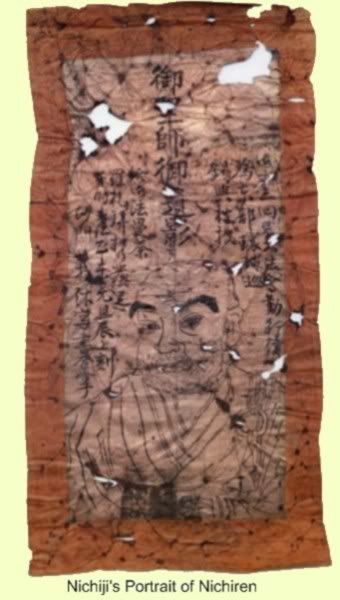 I also have a picture of a Mandala below. It is not in the Gohonzonshu that I can see. "東京保管庫蔵" indicates it is kept at Tokyo. It looked like it might have been a restoration of Nichiji's Mandala that was found in China, It now appears certain that is not the case. The clean image below does appear to have been issued to Nichiji, I do not know if it is it directly related to the Treasure of Senka.
There is also some information in Japanese, below. There are also some videos about the Treasure of Senka. The Treasure of Senka is thought to be artifacts from Nichiji's mission to China. See Also: A Byrd's Eye View Nichiji – A True Stand-Alone Pioneer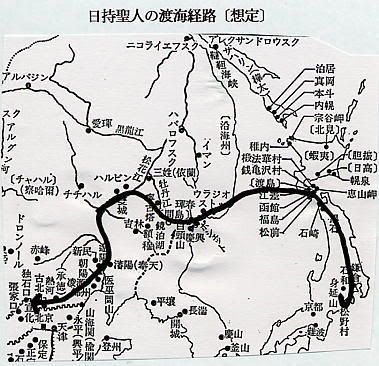 ★日持蓮華阿闍利(1250-1295-1300):日蓮より御本尊を建治2年(1276)に受け、弘安5年(1282)に身延本応寺[窪之坊]を開いた。永仁3年(1295)に「一天四海皆帰妙法の旅[東部環球巡錫]」に出発し、東北・蝦夷地を布教して、アイヌの交易船で沿海州に渡り、中国北京の西の宣化で高僧として布教したという。東に伝播して来た思想の返し波効果で、元帝国への単身での壮烈な伝導である。宣化古文書が数点発見されていてその真偽が問われているが、「異郷で病に臥し、日蓮と父母の面影を慕いて涙を流す」「飛び去る雁を眺めて、望郷の念にかられる」という詩は人間日持の心であろう。「本化別頭仏祖統記」を著した日潮の時代に、窪之坊と当家が深い関係にあったことは多くの古文書から明らかである。東部環球は地球が球形であることをコペルニックス(1473-1543)以前にすでに常識になっていたことが判る。
 日蓮が日持聖人に授けた御本尊(1276)と渡航経路
Link